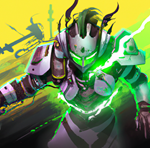 ✅ You can purchase a new Overwatch 2 account with fully automatic product delivery 24/7 from us. We guarantee that the account is new, with 0 hours of game time, and has not been launched before. In addition, the account was not created or linked to Activision.
✅ Our Overwatch 2 account is personal, after purchase it will become yours forever. We provide not only an account, but also the mail associated with it, so that you can fully enjoy the game. We guarantee that there are no paid games on the account and no purchases have been made.
✅ When registering an account, we used fake full names to protect you from possible problems in the future. Our Overwatch 2 account is on the platform Battle.net

⚠️A virtual phone number is linked and confirmed. There is no access to it, it cannot be changed.

• We also do not recommend using our new Overwatch 2 account as your primary account. Please be careful and use it only to play Overwatch 2. Thank you for your understanding.
No feedback yet